Foresight Leverages on Success to Focus on Defense, Industrial Vehicles and Eye-Net Mobile Initiatives in the Short Term
The Company is actively pursuing ongoing projects in the automotive industry, expected to materialize in both the medium and long term
Management is laser-focused on short-term cash generating projects
Ness Ziona, Israel, Nov. 01, 2023 (GLOBE NEWSWIRE) -- Foresight Autonomous Holdings Ltd. (Nasdaq and TASE: FRSX) ("Foresight" or the "Company"), an innovator in automotive vision systems, provides an update on its current position on its operations and presents an updated business roadmap.
Following the terrorist attacks in Israel on October 7th and the subsequent conflict, Foresight has experienced no immediate material impact on its operations. The Company is committed to maintaining its business continuity while ensuring the safety and well-being of its employees.
As we get closer to the end of 2023, management would like to share its strategic outlook. Leveraging our success in the defense and industrial vehicles sectors, as well as through Eye-Net Mobile Ltd. ("Eye-Net") (our wholly owned subsidiary), we made a strategic decision to refocus on strengthening client-facing initiatives in these fields and reallocate resources accordingly.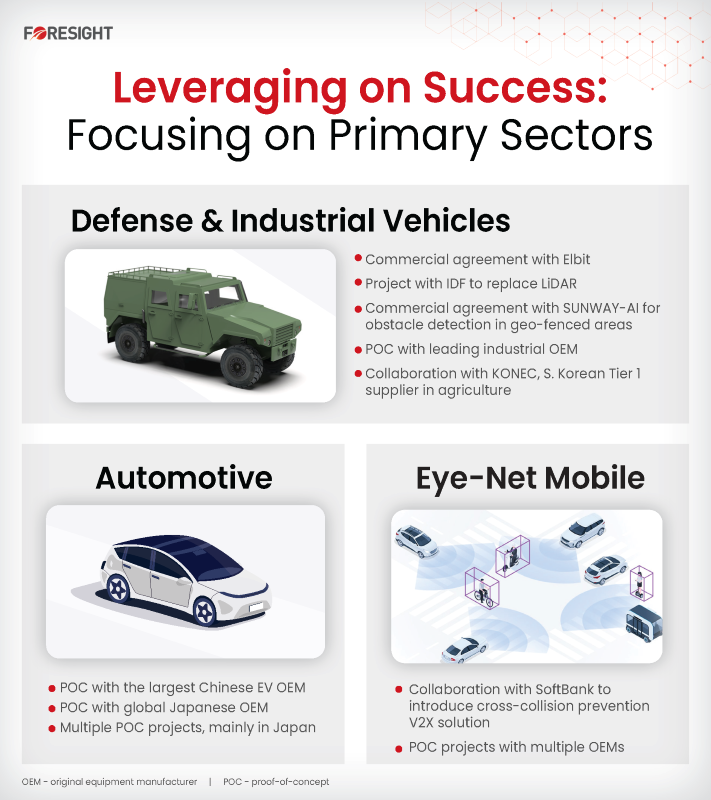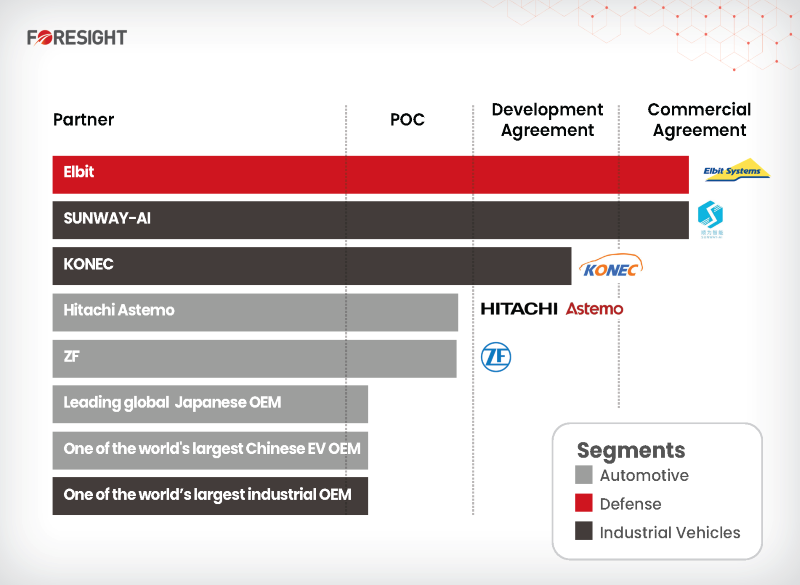 Defense and Industrial Vehicles Sectors - Short-Term Outlook:
Our solutions offer a significant competitive advantage in the defense and industrial vehicles sectors, known for shorter sale cycles and fast results. Foresight has achieved several important milestones that should support its short-term revenue generation plans:
In July 2023, signed an exclusive agreement with Elbit Systems Ltd. ("Elbit") for the commercialization of its image processing software solution, securing potential revenues of up to $4 million over five years, starting in the second half of 2023.
In February 2023, Foresight's QuadSight® stereovision solution was recognized as a significant technological breakthrough by Israel's Ministry of Defense.
In November 2022, signed a commercial agreement with SUNWAY-AI Technology (Changzhou) Co., Ltd. ("SUNWAY-AI") for up to $51 million for the development of obstacle detection systems for driverless vehicles and airport ground support vehicles in geo-fenced areas. This solution is currently in its final development and customer evaluation phase, with initial sales anticipated to begin in mid 2024.
In August 2023, announced the signing of a proof-of-concept (POC) project with one of the world's largest industrial equipment manufacturers to add autonomous capabilities to the manufacturer's mining and construction trucks. As the project nears completion, the Company believes that it will continue on to the next stage of the agreement within the first half of 2024.
In June 2023, signed a collaboration agreement with KONEC, a Republic of Korea Tier One supplier in agriculture. A joint development project, aiming to introduce autonomous capabilities to tractors, is in the planning stages. Upon signing a final agreement, the project is expected to begin in 2024.

Automotive Industry Sector - Long-Term Outlook:
In the long term, the automotive industry is the largest target market for the Company. Foresight has been engaged in POC projects with Hitachi Astemo Ltd. ("Hitachi Astemo") and ZF Friedrichschafen AG ("ZF"). Currently, negotiations are in progress for the next phases of these projects, which may materialize in both the medium and long term. Current projects costs are covered by the partners engaged in the process.
In addition, over the past year, Foresight has formed meaningful connections and partnerships with leading vehicle manufacturers and Tier One suppliers:
In September 2023, announced that the Company partnered with one of the world's largest Chinese electric vehicles manufacturers to enhance the original equipment manufacturer's (OEM's) automotive vision solutions. The project is set to start in China in the upcoming weeks.
In August 2023, signed a POC agreement with a leading global Japanese vehicle manufacturer to improve safety measures.
Eye-Net Mobile – Foresight's wholly owned subsidiary:
Eye-Net offers cellular-based next-gen smart collision prevention and road safety solutions. Eye-Net's software development kit targets third-party location-based applications as well as micro-mobility and the automotive markets.
In a relatively short timeframe, Eye-Net has formed successful partnerships with global industry leaders and thanks to its innovative and seamless solutions, implementation and commercialization are achievable. Eye-Net has recorded several important milestones that demonstrated its progress and potential:
In August 2023, Eye-Net announced a collaboration with SoftBank Corp. ("SoftBank") to introduce cross-collision prevention V2X solution, utilizing SoftBank's multi-access edge computing infrastructure.
In February 2023, Eye-Net announced that it received an order for its Eye-Zone automotive system from a leading global Japanese vehicle manufacturer.
Engaged in multiple POC projects with leading OEMs and Tier One suppliers in Japan.
The implementation of Eye-Net's solution into the Pango Pay & Go Ltd. (Pango)'s application has been postponed to mid 2024, at Pango's request. This delay enables Eye-Net to prioritize several ongoing large-scale projects with a more immediate commercial potential.
Corporate Update:
In conjunction with the business focus, Foresight's management also decided to reallocate resources and reduce expenses while extending the Company's cash runway. Nonetheless, Foresight's core activities and research and development efforts remain unimpacted. We believe that the strategy mentioned above will ensure that management is laser-focused on short-term cash generating projects.
About Foresight
Foresight Autonomous Holdings Ltd. (Nasdaq and TASE: FRSX) is a technology company developing smart multi-spectral vision software solutions and cellular-based applications. Through the Company's wholly owned subsidiaries, Foresight Automotive Ltd., Foresight Changzhou Automotive Ltd. and Eye-Net Mobile Ltd., Foresight develops both "in-line-of-sight" vision systems and "beyond-line-of-sight" accident-prevention solutions.
Foresight's vision solutions include modules of automatic calibration and dense three-dimensional (3D) point cloud that can be applied to different markets such as automotive, defense, autonomous vehicles and heavy industrial equipment. Eye-Net Mobile's cellular-based solution suite provides real-time pre-collision alerts to enhance road safety and situational awareness for all road users in the urban mobility environment by incorporating cutting-edge AI technology and advanced analytics.
For more information about Foresight and its wholly owned subsidiary, Foresight Automotive, visit www.foresightauto.com, follow @ForesightAuto1 on Twitter, or join Foresight Automotive on LinkedIn.
Forward-Looking Statements
This press release contains forward-looking statements within the meaning of the "safe harbor" provisions of the Private Securities Litigation Reform Act of 1995 and other Federal securities laws. Words such as "expects," "anticipates," "intends," "plans," "believes," "seeks," "estimates" and similar expressions or variations of such words are intended to identify forward-looking statements. For example, Foresight is using forward-looking statements in this press release when it discusses its focus on short-term cash generating projects and its plans to refocus and strengthen client-facing initiatives through re-allocating resources, the potential revenues, and the timing of, certain of its agreements, its belief that its strategy will ensure that management is focused on short-term cash generating projects. Because such statements deal with future events and are based on Foresight's current expectations, they are subject to various risks and uncertainties, and actual results, performance or achievements of Foresight could differ materially from those described in or implied by the statements in this press release.
The forward-looking statements contained or implied in this press release are subject to other risks and uncertainties, including those discussed under the heading "Risk Factors" in Foresight's annual report on Form 20-F filed with the Securities and Exchange Commission ("SEC") on March 30, 2023, and in any subsequent filings with the SEC. Except as otherwise required by law, Foresight undertakes no obligation to publicly release any revisions to these forward-looking statements to reflect events or circumstances after the date hereof or to reflect the occurrence of unanticipated events. References and links to websites have been provided as a convenience, and the information contained on such websites is not incorporated by reference into this press release. Foresight is not responsible for the contents of third-party websites. 
Investor Relations Contact:
Miri Segal-Scharia
CEO
MS-IR LLC
msegal@ms-ir.com
917-607-8654


Source: Foresight Autonomous Holdings Ltd.